How to Master Workflow Management
Photo by rawpixel.com from Pexels
Managing complex business processes is without a doubt a great challenge for all organizations because of all the complexity. In fact, the American Institute of Stress claims that occupational pressures and concerns are the number one source of stress for American adults, with about 46 percent of them experiencing this type of stress.
Efficient workflow management allows businesses not only work more cost-effectively but also helps to reduce the stress level and create a better work culture. As a result, companies can increase their revenue without the need for long-term investments.
How to Establish a More Effective Workflow Management
To describe it in simple words, workflow management is the ability to coordinate the tasks between departments and single employees.
Different strategies allow you to achieve this. However, the number one requirement for the modern world is having the right tools, i.e. Workflow Management Software.
Best Workflow Management Software to Consider
In this section, we're going to take a look at some of the most popular WfMS that can be used both by small business owners and freelancers.
The pricing for each one is included but also keep in mind that all of them offer free trials of all features for at least 15 days, so you can easily try them to see which one suits your needs.
Filestage
Source: Filestage
Filestage helps your business to easily share, review, and approve media files. There will be no need for sending emails back and forth anymore because reviewers annotate their comments and change requests directly inside the file. As a result, it brings speed and clarity to the media processing workflow and makes it more efficient.
For example, this system would be a great tool for businesses working with media such as presentations and other marketing materials.
Filestage supports reviews of videos, documents, designs, and audio files.
Pricing: $89/month.
Pipefy
Source: Pipefy
Pipefy can be used by managers to help them control complex tasks and not depend on the IT department to automize processes, workflows, and approvals.
The convenient and intuitive Kanban Method helps you to monitor performance reports, demonstrate increased transparency among the teams, and easily connect the processes.
This makes Pipefy a good choice for managers in Human Resources, Sales, Administration and Finance, Purchasing, IT Tickets, Marketing, etc.
Pricing: $12/month/user
Integrify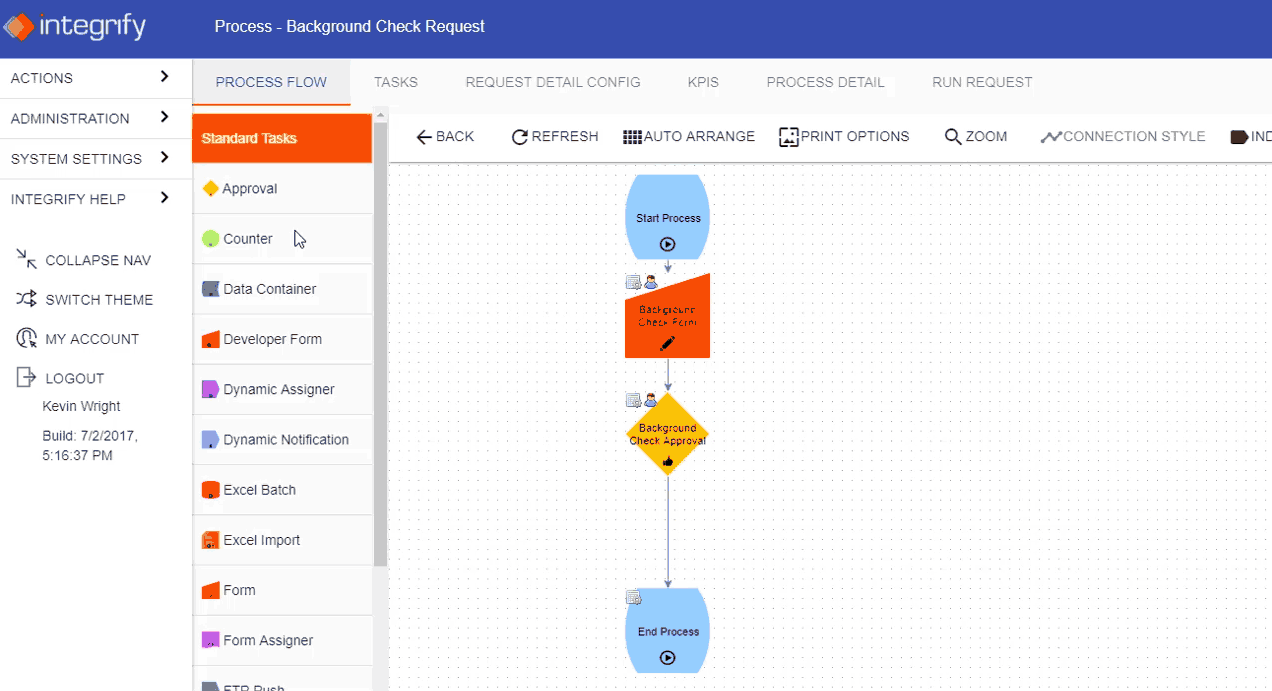 Source: Integrify
Their solution for workflow management revolves around the simplicity of use, quick deployment, and a variety of features.
Integrify is recommended to those departments and organizations that would like to automate their day-to-day workflow processes and follow consistent standards. The system can be used by IT services, finance, compliance, HR, and marketing and sales.
For example, the user working in marketing and sales can automate the following processes: customer status changes, product requests, approvals, contract updates and reviews, PR reviews, and others.
Pricing: $40/month
Heflo
Source: Quora
This tool allows you to automate, model, and manage all your business processes.
The solution is cloud-based, meaning that you can access your process from anywhere, at any time which makes it easier to keep track of the tasks and respect the deadlines.
The following features make Heflo's automation a good solution to cut costs and improve productivity and management:
Business process automation

Web service integration

Process analysis and documentation

Control of tasks, processes, and deadlines

Monitoring dashboards

Automation and implementation services.
Pricing: $10/month/user
Smartsheet
Source: Smartsheet
Smartsheet is a project management application with an interface that resembles spread-sheets and helps teams collaborate, manage tasks and plan projects.
Dara Brooks, the content manager for Top Writers Review explains its benefits:
"The software offers a variety of applications used in project management, such as reporting, document management, resource management, and time tracking, with issue management offered through an add-on application."
The reason why this tool is included in this list is a really impressive list of features for diverse users. For example, here are the solutions that Smartsheet provides for marketers in your organization:
Campaign management

ROI tracking (content marketing and more)

Content marketing calendar collaboration

Event management with real-time plans and registration details

Website management with analysis

PR management and tracking to improve visibility of pitches and activities.
Clearly, every marketing professional would benefit from gaining this sort of visibility and control that the tool provides.
Pricing: $14/user/month (Individual plan)
Pricing: $25/user/month (Business plan)
TrackMySubs